PROBUS MAGAZINES
THE PROBIAN
Click to download the latest Probian Magazine. NB When it opens, click the FULL SCREEN icon bottom right of grey box


THE PROBIAN MAGAZINE
---
RECENT DOCUMENTS FROM PSPL TO CLUBS
---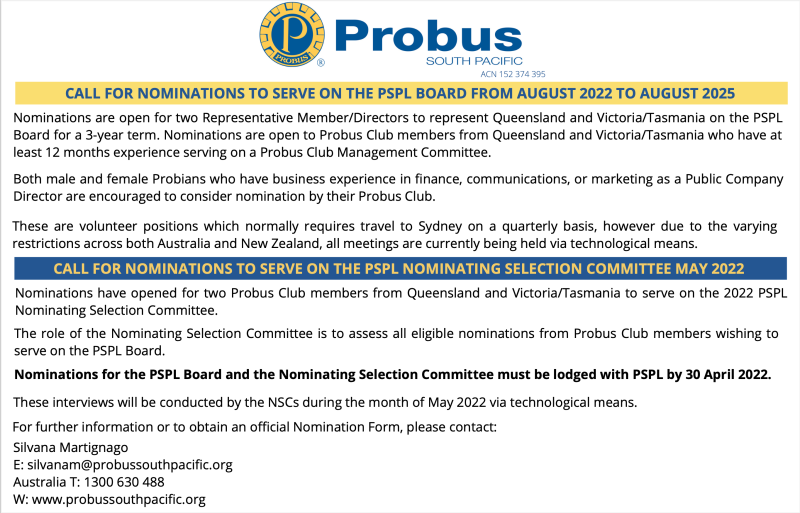 The following links will take you to documents that have been sent to all Probus Clubs and deal mainly with issues as a result of Coronavirus and social distancing.
Letter_to_Australian_Clubs_COVID-19_Issued_080420.pdf

COVID_19_Frequently_Asked_Questions_VICTORIA_Issued_080420.pdf
PSPL_Letter_to_all_Probus_Clubs_re_Covid_19_Issued_170320.pdf
COVID_19_Frequently_Asked_Questions_Issued_170320.pdf
---
---
PROBUS SOUTH PACIFIC WEBSITE.
There are two links on this page for Probus South Pacific. The link you need to use depends upon what you require.
---
PSPL Website
Click here to go to South Pacific Website
---
PSPL Club Administration and Documents
If you wish to access the PSPL Club Administration section of the PSPL website including being able to download documents from the Probus South Pacific Ltd website, you will need to login to the South Pacific Website Club Administration Page. Click the link below for details on how to login.
( NB: the password for the PSPL Login page on this website is the same password used elsewhere on this website. )

Click here for the details on how to login to South Pacific Website Club Administration login page
---