Wine Appreciation
COVID UPDATE
Wine Tasting is currently awaiting direction from Government as to when venues will be open OR have people at our home OR meet as a group in a park. As soon as this occurs we will be on the move.
In the meantime, perhaps a Zoom or take some notes on what you are drinking so I can share with the Wine group.
Virtual Probus Wine Night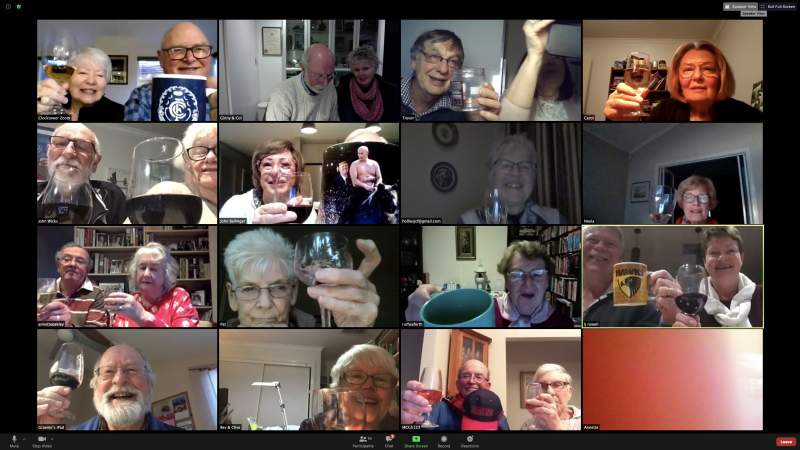 On Thursday 6th August we had a first Wine Appreciation Event on Zoom. Twenty- five members attended and from all the amazing feedback we have had, it was very successful.
Dave Davies – Zoom master extraordinaire- showed us two YouTube videos on how to pick the best glass for your wine. We also tried drinking a small amount of wine from a coffee mug and a thick glass vessel.
Now we know the science of what we use to drink our wine from is so important.
John Ballinger ran one of his famous Quizzes which was wone by Ruth Seferth with a 100% score. She received a virtual trophy (at least it doesn't require dusting and polishing).
After many jokes were exchanged and some valuable information on what people were buying and where they had purchased it, our happy hour had turned into two hours!
Planning for our next one is coming along nicely.
Trevor (Convenor)
---
---
Bonjour!!! On Thursday 11th June 2019, 22 wine connoisseurs met at our home to celebrate an early Bastille Day and to be educated in French wines.
The meeting was expertly chaired by Monsieur John Wicks. Thanks John, for sharing your amazing knowledge and expertise on seven selected wines. Printed notes, informative maps, knowledge of the region and, of course, The Quiz, were also features of the evening.
The wines were accompanied by various cheeses, pa?te? and then the evening finished with profiteroles. Thanks to Bev for her organisation and preparation of the French themed platters.
Overall, a fabulous night. Everyone came out happy. "Je suis tre?s bien" was the common expression for the night.
---
Thursday 13th February 2020, a beautiful Melbourne Day, saw 29 participants gather at Kellybrook Winery.
In this stunning setting we sampled a sparkling wine, then whites, reds, rose and cider. Our hosts for this, Josh and Karen, did a magnificent job in explaining the notes and the process of making each wine. They were true professionals at being so efficient in pouring all our samples!!
When we were able to pry everyone from the tasting room, we sat down to enjoy our ploughman's lunch. It was plentiful, delicious, especially the platters of profiteroles, shortbread and chocolates that followed.
Our hostess and organiser for this event was Fiona. She did an amazing job. So friendly, professional and we feel very lucky to have had her help to make it such a memorable day.
Trevor
P.S. We were a bit surprised though that no one took up the invitation to climb the magnificent 150 year old oak tree in the garden???!! Maybe next year?
Trevor Smithson Convenor
9726 0019